Meet the Reef Renewal Staff
Coordinator
Lois Hatcher
Lois Hatcher has been diving the waters around Grand Cayman since 1990. Lois is both a PADI Master Instructor and SSI OW Instructor. She also has been awarded the SSI Platinum Pro award. Lois first became involved in coral restoration back in 1996 while working on a reef that was damaged by a cruise ship. Since then she has logged thousands of hours underwater restoring reefs and growing coral.
Stephen Broadbelt
President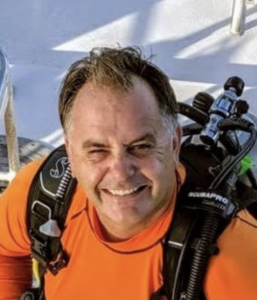 Co-founder and partner of Ocean Frontiers LTD, Steve has lived in the Cayman Islands since 1992 and logged over 5000 dives, just on Grand Cayman's East End! Steve spearheaded the Mooring Buoy Installation program for the East End, the Shark Awareness Project and Ocean Frontiers was the first scuba diving operation in Grand Cayman to start a coral propagation program back in 2016. He was also instrumental in working with the Cayman Islands Department of Environment to develop a SCTLD Strike Team (Stony Coral Tissue Loss Disease) for East End. Steve focuses most of his time on marketing and growing the business and further developing the property in environmentally friendly ways.  When he's not stuck in the office, he's either helping one of his two daughter's on a school project or working on fund raising for Reef Renewal. Protecting the coral reefs is a passion of Steve's. He wants to be able to pass the family business on to his kids and that includes healthy reefs. When Steve gets some time for himself he loves to get out and help rid the Cayman reefs of the invasive Lionfish.
Jason Belport
Vice President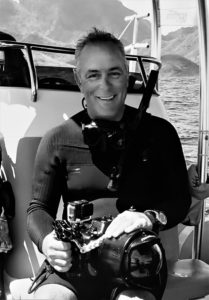 Jason Belport is Executive Vice President of JEM Worldwide and General Manager of JEM Holdings, Ltd. with over twenty-five years of management experience operating Little Cayman Beach Resort, Cayman Brac Beach Resort, Cobalt Coast Resort and Reef Divers, Ltd. in the Cayman Islands. An SSI Pro Platinum Diver Award recipient, Jason is a lifelong dive industry professional with extensive operational and logistical experience as well as global dive industry knowledge and expertise. Jason is a passionate ambassador of the marine environment with well over 5000 dives and has a keen interest in conservation of the marine ecosystem of the Cayman Islands. Jason is a passionate underwater photographer and past President of the Sister Islands Tourism Association (Cayman Brac and Little Cayman). He is a graduate of San Diego State University in San Diego California
John Jabs
Treasurer
John is a Chartered Professional Accountant with nearly 20 years of experience in public accounting. As a Director in the Audit group at Deloitte, John focuses on maximizing the efficiency and quality of the audit process through the application of technology. John also leads Deloitte's WorldClimate environmental initiatives for the Cayman Islands. John is an avid scuba diver who is passionate about coral reef protection and restoration.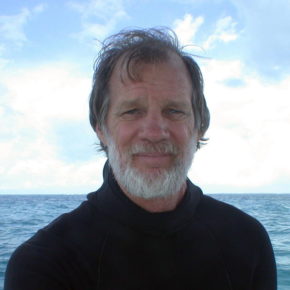 Technical Advisor, Founder of Reef Renewal International
Ken Nedimyer
Ken Nedimyer is the founder of Reef Renewal and the founder and former president of the Coral Restoration Foundation.  Ken has designed and set up coral nursery and reef restoration programs in over 12 different countries, has a degree in Marine Biology and has a life time of experience diving on coral reefs.  Ken played an important role in establishing the nursery and restoration program on Bonaire, and continues to work with the program managers at Reef Renewal Bonaire to share lessons learned in Bonaire and around the world.